About the Training
This training is designed to meet the needs for everyone working as a ScrumMaster or agile coach, whether you are new to the job or experienced. As Certified ScrumMaster provides a deep understanding of how the role is supposed to work in practice, what qualities and knowledge a ScrumMaster needs, and how any organization can benefit from its ScrumMasters, this training is also suitable for anyone working together with, hiring or leading ScrumMasters. Over the years,this training has also proven beneficial to team leaders, line managers, product managers, project managers, HR managers and recruiters.
Why Levla?
The trainer is certified by Scrum Alliance, and has 20+ years practical experience of not only Scrum, but Lean Product Development and other agile frameworks, and is one of the most experienced trainers in Sweden
This training is based on cases from Swedish leadership and industries, with global collaboration and outreach
Levla collaborates actively with researchers and industry leaders regarding traditional as well as Lean product development in order to properly put Scrum in those contexts
The training is limited to smaller groups, up to 15 participants to facilitate discussions and information sharing throughout
Course Material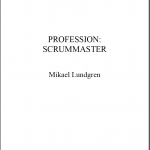 By participating, you will receive the book Profession: ScrumMaster spanning some 200 pages, which contains a complete definition of the role according to the author, viewed from all perspectives covered by the training.
The book was originally a response to the fact that there are such widespread misunderstandings about the role of ScrumMaster in Sweden, and that many organizations are at risk to not get the full benefit of agile practices if the role is reduced from an agile business coach to a project manager, team leader or "Sticky-note Expert ™ " . The book may surprise you, and hopefully give you enough arguments to level up the ScrumMaster role in your organization – Mikael.
Agenda
Theory illustrated with many cases and examples are interspersed with discussion and exercises. The material not only covers Scrum, but also shows how Scrum is in many cases combined with, and interacts with, Lean, Kanban, other agile frameworks, and even traditional ways of working.
As the trainer has extensive experience with agile working methods outside the IT industry, there are many examples of this, but of course there is also a chapter focused on leading software development teams. In addition to an overview of Scrum, and how the framework relates to and can be combined with other agile and traditional frameworks, the role of ScrumMaster and agile coach is highlighted from the following perspectives:
The coaching leader
The organizer
The facilitator
The business developer
The technical leader
Before and After the Training
In order to get the most out of the training, having a basic knowledge of Scrum and agile working methods is a bonus. Perhaps you have worked in, or in contact with, one or more agile teams?
However, it is not mandatory as we start the first morning with a brief overview of the framework's constituent parts, and how they are supposed to work. After compled training, you will be registered with and have the opportunity to take the online certification test with Scrum Alliance, at a time that suits you. The course fee includes the exam, as well as an opportunity to re-exam, which must be completed within 90 days of receiving the welcome email from the Scrum Alliance.
You can read more at scrumalliance.org and of course a good tip is always to read through the Scrum Guide (any language).